Denger deh tagline-nya :
Through the neighborhoods of Paris, love is veiled, revealed, imitated, sucked dry, reinvented and awakened

.
Hmm ... dalem gak tuh??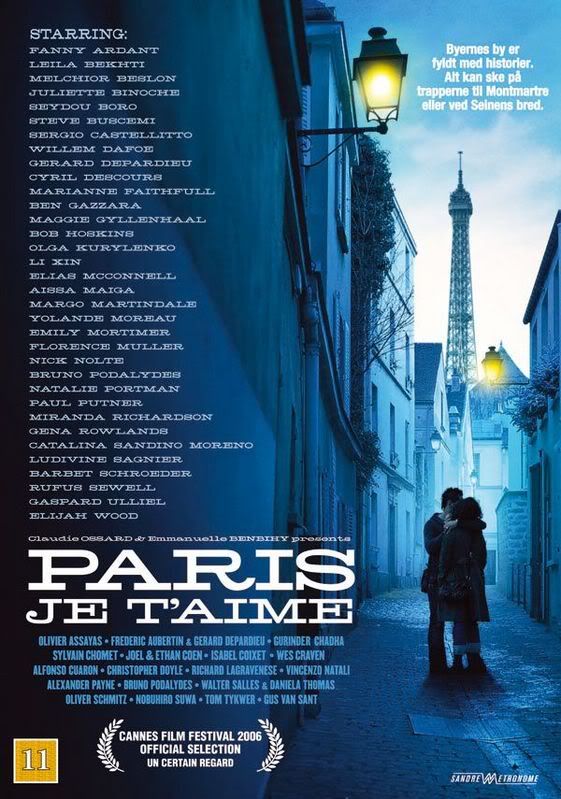 DVD dari film ini sebenarnya sudah saya dapatkan beberapa bulan yang lalu, namun dengan keadaan yang tak jelas, alias sangat bajakan.
Well then, akhirnya saya memutuskan untuk meminjamnya di persewaan VCD Original di daerah rumah saya beberapa waktu yang lalu. Setelah saya menontonnya, saya sangat setuju dengan anggapan teman saya tentang film ini, karena benar apa yang ia katakan, film ini keren banget. Tidak menyesal saya meminjamnya.
Walaupun kita mungkin bakalan nyesek abis, karena film ini hanya seperti beberapa buah cuplikan-cuplikan film yang berbeda, dengan setting yang sama yaitu di Paris. Nyesek kenapa? Karena kita nggak bakalan tau beberapa ending dari cerita-cerita di film ini.
Yup, film ini terdiri dari 20 film yang disutradarai oleh beberapa sutradara terkenal di dunia -
FYI, walaupun orang bilang banyak yang terkenal hanya Alfonso Cuarron dan Wes Craven saja yang saya tahu, secara Alfonso adalah sutradara Harry Potter dan Wes Craven yang membuat Scream.
Jujur, saya tidak mungkin menyebutkan satu-satu bagaimana cerita dari film tersebut, karena jujur juga saya bingung harus bercerita dari mana.
Yang pasti ada 2 cerita favorit saya dari 20 film ini, yang pertama yaitu cerita dimana seorang cewek muslim bernama Zarka yang ditaksir cowok Prancis bernama Francois, karena kecantikan muslimahnya. Dan kedua, cerita dari Natalie Portman dimana ia adalah seorang artis yang menjadi kekasih dari cowok yang buta.
Ceritanya unik, dan positif banget pokoknya. Tapi yang lainnya cukup menarik juga kok, bener deh, bagi kalian pecinta film romantis namun dengan kemasan unik, pasti kalian akan suka. Guaranted.