Hari Jum'at, 16 November 2007 kemarin, akhirnya mendapat kesempatan juga bertemu dengan teman-teman
Nidji
. Bukan, saya bukan fans gila yang bakal melakukan apa saja untuk mendapat kesempatan bertemu Nidji kok, ya secara ada kesempatan, kali ini teman saya mengajak saya bertemu dengan public figure Indonesia yang sedang naik daun saat ini, gratis pula, jadi kenapa tidak?
By the way, bus way, anyway, secara saya dari awal sudah salah kostum, saya merasa tidak nyaman sekali berada di tempat tersebut. Dengan baju panjang, jaket jeans dan jilbab yang gelap, huuuh rasanya udaranya begitu menyesakkan.
Karena jangan membayangkan meet and greet ada di sebuah tempat berAC dan berlahan luas, seperti hotel atau cafe-cafe di tengah kota. Meet and Greet dadakan kali ini, diadakan Nidjiholic di salah satu rumah anggotanya di kawasan Dukuh Pakis.
Catet ya, rumah, di gank yang cukup untuk 2 mobil yang mepet sekali, dan termasuk kawasan perumahan kampung yang cukup padat. Okay, sebenarnya rumahnya memang cukup besar, rumah 3 tingkat, etnic style, karena si empunya rumah adalah orang Bali, dengan sebuah panggung dan kolam renang kecil berukuran 4x2 m di belakang rumah.
Tapi maaf-maaf, kemarin volume orangnya banyak sekali -tamu undangannya kebanyakan juga dadakan soalnya-, sehingga menghabiskan space udara dan tempat untuk bernafas lega di dalam rumah tersebut.
Well, lanjut membahas soal Nidji dan fans-fansnya, Nidji yang datang selepas promo mereka di sebuah radio swasta Surabaya jam 9 malam, akhirnya sampai juga ke rumah tersebut.Giring dan kawan-kawan langsung menempatkan diri mereka di sudut rumah yang telah dipersiapkan panitia- yang notabene adalah sebuah panggung kecil untuk nge-jams. Boleh juga energi mereka yang belum habis didera promo-promo dan persiapan manggung di hari itu, hasilnya penampilan akustiknya oke banget.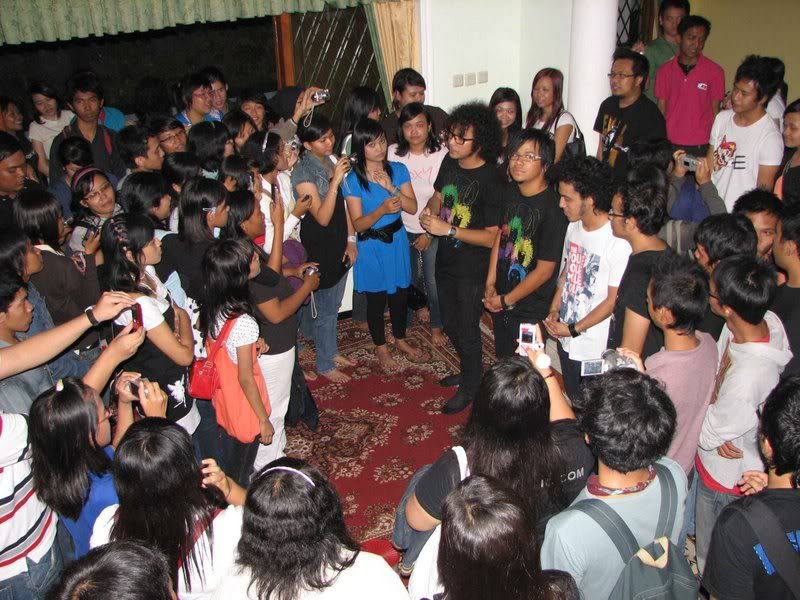 Setelah itu acara pemotongan tumpeng digelar, yang dilakukan sebagai tanda pembukaan cabang pertama Nidjiholic seIndonesia.Setelah doa yang dipimpin oleh Rama-gitaris dari grup band tersebut, yang kabarnya... paling 'bener' dibanding yang lain- acara makan-makan dimulai. Jangan salah, siapa bilang Nidji bisa menikmati makanan mereka dengan santai? Wong sekali suap, addaaa ajaaa satu-dua makhluk yang nempel yang kalimatnya rata-rata seperti ini:
"Giring...Giring, boleh foto bareng nggak?"
"Rama...Iel...Randy, minta tanda tangannya dong?"
and etc ... etc ... etc ...
Hehehe, ternyata jadi public figure yang dikenal banyak orang susah juga ya. Kesian juga sih melihat mereka yang sepertinya jalan kemana-mana 'dicegat', didera banyak blitz dari kamera orang-orang tersebut.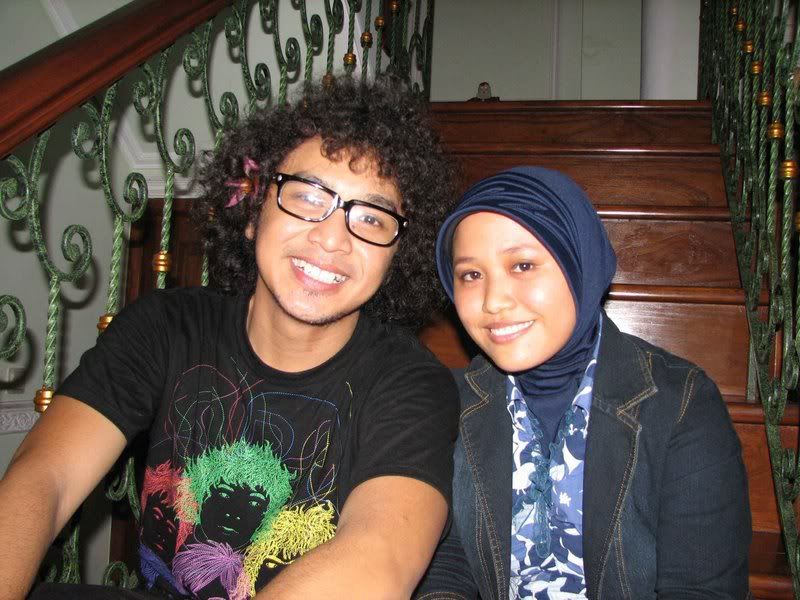 Tapi... berhubung kesempatan kaya' gini nggak sering terjadi, saya jadi keikutan juga sama dengan orang-orang yang temen 'hi-class' saya yang sering bilang "undignity sekali", soalnya ngefansnya kebangetan, hehehe. Jam-jam terakhir saya akhirnya meminta foto bareng mereka juga. Walau dengan usaha hebat, karena rebutan dengan orang lain. Yaah, at least kesempatan itu ada, walaupun saya juga tidak puas dengan hasil foto-fotonya.